Background
The Transform1060 location has been a sex positive community space for over a decade. Under the name "Alchemy," it operated as a private rental space for several years before being taken over by another bay area organization. Renamed "SF Catalyst," the space hosted a wide range of events. In 2020, the previous managing organization approved an expansion into an adjoining space at 190 Russ Street, increasing the available square footage and improving accessibility.
Transition
During the COVID-19 pandemic, the space was closed to comply with city and state restrictions on indoor gatherings. As with many businesses and organizations, it accumulated a sizeable debt of unpaid rent. In the summer of 2021, the space was able to reopen for limited events. In August 2021, a group of community stakeholders and venue operations team members offered to take over the rent debt and ownership of the space and run it as a new public benefit non-profit.
On October 21, 2021 the previous managing organization voted unanimously to approve the transfer proposal and move forward in the process of transitioning the space to new ownership and oversight, with a goal date of December 31, 2021. Transition1060 signed a new lease in late December, effective January 1, 2022. As part of that lease, they assumed the existing rent debt accumulated during the COVID-19 pandemic.
Our Values
Our stewardship of the Transform1060 space is grounded in four core principles: transparency, accountability, inclusion, and fiscal sustainability. In our full transition proposal, we outlined how each of these values will be put into practice. Our goals for Transform1060 include:
Providing event facilities to a broad spectrum of the San Francisco Bay area's fetish and kink communities with an intentional focus on increasing services to and participation of historically excluded and under-represented people.
Hosting a range of public and private events, including but not limited to "play parties," group meetings, social gatherings, educational seminars, and private rentals.
Serving the community as a registered public benefit educational non-profit rather than benefiting private owners/individuals.
Fostering inclusive representation and leadership that strives to reflect the diversity of the communities served by creating a clear path to leadership positions for community stakeholders invested in Transform1060's success.
Creating and maintaining the most accessible space possible given the physical limitations of the building.
Prioritizing long-term, responsible fiscal sustainability by developing a prudent reserve and debt service (prompt, consistent debt repayment.)
As part of our commitment to transparency and accountability, we intend to hold regular "open house" community days. On these days, our community stakeholders will be able to ask questions and give feedback about our operations. Some community stakeholders will become part of our "Community Accountability Panel," who will have direct input into scheduling and budgetary decisions. These stakeholders will in turn be eligible to take on leadership roles in the Transform1060 non-profit.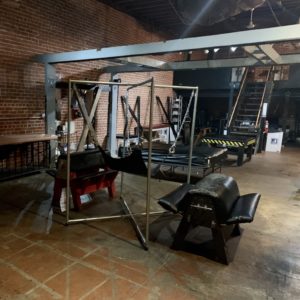 Christopher Wood (he/him) is our operations manager and "on the ground" team lead. He is a full-time community volunteer who was recognized for his community contributions by being named the 2018 SF Bay Area Leather Alliance's Man of the Year. He has been the Operations Manager for the 1060 Folsom Street space since March 2017. Christopher is intimately familiar with all facets of the venue's operation, event sales, and hosting. He has worked with various city agencies in relation to this work. In his role as manager, he successfully brought the venue to a state of profitability in two years. Christopher has produced numerous other leather events including Leather Alley at SF Pride for four years.
Leigh Ann Hildebrand (she/they) is our spokeperson and "online" team lead. Leigh Ann has been part of the location's operations team since January, 2018. Her work on the team has involved assisting new hosts, hosting parties, and fundraising. Currently she is handling much of the online presence for Transform1060. Leigh Ann has been involved in leather since the early 1990's. She served as Ms. Santa Clara County Leather 2018 and was recognized as the 2018 Bay Area Leather Alliance's Non-Binary Person of the Year for her volunteer work. Her professional experience is in customer service, user support, and documentation and grant writing.
Eric See (he/him) cofounded Transform1060 with Leigh Ann and Christopher. A long time member of the San Francisco bay area community, Eric has served as Chairman of The 15 Association, the longest-standing BDSM club for men on the West Coast. Eric plays a crucial role "behind the scenes" at Transform1060. He coordinates with our fiscal sponsor and government agencies to ensure we meet goals for federal non-profit status and fiscal sustainability.